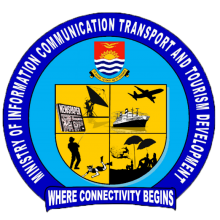 The ICT Policy and Development Division of MICTTD is the division responsible for advising the Government on ICT related matters, coordinating the development of national ICT related Policies such as the National ICT Policy, coordination of ICT projects throughout Kiribati, promoting the use of ICT in the country, responsible for cyber security advice and awareness programs for the general public.
Recently the Division was responsible for leading the development of the eGovernment Roadmap which sets a high level plan to adopt eGovernment in Kiribati.
Vision: "ICT for all the People of Kiribati"
With this vision, we aim to empower citizens of Kiribati through providing ICT services to all including the most remote islands, enhanced democratic values and promote social and economic sustainable development. The expansion, diversification and effective application of ICT will establish a transparent, responsive and accountable government through eGovernment; develop skilled human resources; enhance social equity; ensure cost-effective delivery of services through public-private partnerships and provide enhanced opportunities for education, health and emergency management services; and enable a knowledge-based society to secure a brighter future for all.