Organisation Name

Department of Information and Communications Technology (ICT)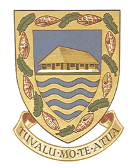 Tuvalu, one of the world's smallest independent nations, comprises nine low-lying coral atolls with a total surface area of 26 square kilometers dispersed over 1.3 million square kilometers of the central Pacific.
The Department of ICT supports Tuvalu Government's IT services under the Ministry of Justice, Communications and Foreign Affairs. It also carries out the Regulatory functions for the Minister and is a key stakeholder in Cybersecurity initiatives.