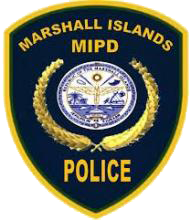 Country Bio
The isolated nature of the Pacific islands, their sparse population  and geographic positioning between the Americas and Asia make  the region attractive to organized crime. The Marshall Islands is  made up of 29 atolls and five islands spread over an area of 470,000  km2. 
The country's rich land and maritime biodiversity has created a  market for wildlife traffickers who use the vast high sea transit zones  to smuggle protected flora and fauna to markets all over the world.
Organisation Bio
Established in 1952, the Marshall Island's Police Department (MIPD)  is part of the Ministry of Justice. Headed by a Police Commissioner,  the force is responsible for : 
protection of people and property; 
law enforcement throughout the Republic of the Marshall Islands.  
MIPD is made up of nearly 200+ sworn police officers serving a  population of 70,000 people populating 34 coral atolls and more  than a thousand islands. 
The MIPD Commissioner is responsible for: 
supervision of MIPD staff and action; 
effective implementation of MIPD rules and regulations; • MIPD police operations; 
daily MIPD police duties.  
Accountable to the Commissioner, the Deputy Commissioner (DC)  has responsibility for operational law enforcement activities and  patrol nationwide, including criminal investigations and  management of the department.  
The DC also oversees the day-to-day running of police sub-stations.
The MIPD's main police station is located in Majuro (Uliga) with sub stations located on the outer islands of Ebeye, Jaluit and Wotje.  
An Assistant Commissioner (AC) is in charge of the administrative  and logistics side of law enforcement, including recruitment, finance  and human resources. 
MIPD structure
Criminal Investigation Division; 
Community Policing; 
Correction and Rehabilitation; 
Finance & Human Resources; 
Fire & Rescue; 
Internal Affairs; 
INTERPOL – National Central Bureau Majuro/Transnational  Crime Unit 
Recruitment & Development; 
Maritime Sea Patrol; 
Traffic Control 
The Marshall Islands Police Department is under the Ministry of  Justice, Immigration and Labor (MoJIL)
Code of Ethics
Law enforcement is an honorable calling. Service in this field demands a professional rather than an occupational philosophy.  Personal honor, a desire for professional status, and devotion to serve above self, is the motives which impel a police officer to  discharge this responsibility in full measure.